Music, Videos & My Studio -
Equipment
Yamaha AN1x
I love this synthesizer. It has a rock solid MIDI implementation, and it is fairly easy to program. Essentially, it uses modern digital technology to mimic an analogue synthesizer. It can sound a little clinical compared to the more organic sound of a genuine analogue synthesizer, but it is totally reliable and does not go out of tune as it warms up! It includes quite a nice arpeggiator that I can apply to sounds from other modules, and a good varied range of filters, so I can get some really retro squelchy sounds. The keyboard is quite nicely weighted, for a relatively inexpensive synth, and touch sensitive. It also transmits aftertouch. Altogether great fun.
Yamaha MU80


A basic general midi sound module I bought in 1994, with lots of additional sounds in the Extended GM sound banks. Some great; some really cheesy. It has massive 64 note polyphony, with two MIDI ports with 16 parts on each. It is possible to build some amazing multi-layered backgrounds.

Plenty of effects, two of which can be applied simultaneously, and reasonable filters though they are nowhere near as strong as the An1x. It is also possible to plug-in a microphone (but no phantom power) and/or a guitar or a line source, and apply effects to the sounds while mixing it into the midi sounds. Useful for my Control Synthesis DB9 which has no built in effects. Very easy to program via Midi. The first sound module I bought, it is a stalwart that will never set the world on fire.
Equipment
Yamaha TG55
Something of an oldie, it dates back to the late 1980s, this is a good, sample-playback synthesizer module. It has some great "swirling" sounds, and some good, strong basses. Pretty capable, but a real pig to program as there are just far too many buttons to press and menu screens to navigate just to perform basic programming. It is also a little limited in polyphony if one uses a lot of layering of sounds. For $125 used, though, it was a bargain.
Control Synthesis Deep Bass 9
Bought this in 1995, soon after it came out. It is a true analogue synthesizer, with some limited MIDI control. It was initially marketed as a Roland TB-303 clone, which it really is not, although it gets quite close. It uses a 24db filter, but it could usefully be a little wider. But it is lots of fun, and capable of some really DEEP, window rattling bass lines as well as all the bleeps and squelches one could want. Everyone wanted a TB-303, resulting in prices that were a joke, so this was a great way for an amateur musician to get very similar sounds inexpensively. All the features are controlled from knobs one turns in real time, so it is hard to re-create something done on the fly, so you always use it with the sequencer recording to catch those flashes of inspiration. It has all the usual control features like filter cut-off frequency and resonance, as well as an Accent control that defines the increase in the filter cut-off frequency from zero to lots when it receives a MIDI velocity of 65 or greater.
Akai SG01v
The SG01v is a half-rack synthesizer module that I bought in the US from Sam Ash in NYC in early 1997. It has a great selection of vintage synthesizer samples. It permits some limited tweaking of the sounds including filter cut-off, attack & release, and some additional "special" edits depending on the individual sounds. There is also a built in reverb with 30 settings, but these are modified using NRPNs, which is a little fiddly. There are 256 patches in memory, that cannot be over-written, and is 16 part multitimbral with 32 note polyphony. While pretty basic, it sounds good and has a solid midi implementation.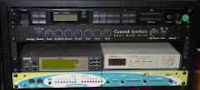 Quasimidi Rave-o-lution 309
The Raveolution is wicked with hints of the Roland TB-303 & TR-909 & more. Lots of knobs to control parameters in real time. In fact, it is a mixture of analogue synthesizer and samples. I use it mainly for percussion, but the bass synthesizer is excellent too, and much closer to the Roland TB-303 than the Deep Base 9. I have the I/O expansion card fitted giving me one stereo plus two mono outputs. Very useful for adding effects to specific parts. Unfortunately, it has started to act up, and I have to re-boot the software regularly. Then it works fine for a while, until the next re-boot. Well worth it though.

Zoom RFX-2200
Top in the Rack. A pretty basic effects processor that does a reasonably good job. I used it mainly to add effects to those sound modules without built in effects, like the Deep Base 9. I also use it on the rare occasions that I use a microphone, and sometimes to add an effect across the whole mix during mix-down.
Behringer Dynamics
Just below the Zoom at the top of the rack. The MDX2100 Compressor/Limiter/Expander/Gate does a decent job when I need it. Being midi based, I really do not use it that much except to add effects; for example, using the kick drum to create a "pumping" effect.
Behringer 2802 Mixer
Bottom of the Rack. The 2802 is a 28 channel rack mounted mixing desk. Very quiet pre-amps with good, basic 3-band equalization, and four aux sends. Being essentially MIDI based, I do not need a lot of advanced features in a mixer; just lots of inputs, a few aux sends and some inserts. This fit the bill nicely, and has been going strong since I bought it well over 20 years ago.

Yamaha DD12
Just used as a trigger for drums when I feel like letting loose! A great way to get rid of tension; just pick up the drum-sticks and beat the pads to death! Eight programmable pads and a foot pedal for the bass drum. Lots of fun. Unfortunately, the onboard sounds give a whole new meaning to the words naff & cheesy. The built in accompaniments are indescribably bad; very heavy on the boom-tiz-boom-tiz......
Kawai MDK61 II
A 5 Octave controller keyboard. It is my original that I have had for well over 20 years now. It was introduced in 1993, and it still works perfectly. It has a number of nice features like 10 different velocity curves, a control wheel that is assignable to any continuous controller, and 10 programmable patch memory locations. I rarely use it these days, but it remains a useful, basic controller. The downside is that the the keyboard has no "feel" at all.
Novation mm10
Novation introduced the mm10 In 1992. The motivation was the success of the Yamaha QY10, which did not have a keyboard, and the mm10 has a slot on top to accommodate this instrument. The power supply is designed to power the QY10 as well as the mm10. It is a small 2 octave keyboard, with full size keys that are velocity-sensitive. I purchased mine in 1997 as most of my studio equipment was still in storage in the US, and I needed something to allow me to write and play. Nowadays, I use it primarily to transmit synthesizer program and controller changes on the fly rather than as a controller keyboard.

Guitars
Fender Telecaster in black. Not used a great deal, but when I do, I often like to run it through a load of effects. Then sometimes, I just play it nice and clean.

Ovation Standard Balladeer model 1861. Also in black with the cut away super shallow body. A classic U.S. Ovation that plays like a dream.

Washburn D10SZ. See right; my most recent acquisition. A limited edition Washburn D10 finished in Zebrawood on the back and sides, with a solid spruce top. Beautiful looking, bright-ish sound that lacks some of the bottom end of my old 1960s Landola, but has a much better mid-range and is really easy to play.
Audio Technica AT3035 Microphone
I rarely use a microphone, as most of my work is instrumental. When I do need it, this is a great condenser mic. The picture shows it in its shock mount with the "pop shield" folded away.
M-Audio Duo
A very nice little microphone preamp with phantom power. Two microphone or line inputs, analogue output, digital output, and a USB interface. A useful tool, with a very clean sound. M-Audio are refusing to publish drivers for it from Vista onwards, so I will NEVER buy their products again.
M-Audio MIDISport 8 X 8
USB MIDI Interface with 8 separate Midi in/out Ports, each with 16 channels, giving a total of 128 MIDI channels. Awesome. Not sure if M-Audio will continue support for much longer.


Samson Resolv 50a
Active, near-field monitor speakers - Punchy and loud! Totally unforgiving of bad source material, as a good monitor should be. Never try and use these for hi-fi, especially with cheap CD players. They show just how bad cheap CD players are. Surprisingly, they sound quite good with high quality vinyl sources.
Date from 1983! Fitted with a mix of Audax units for the base & treble, and the ubiquitous, at the time, KEF B110 mid range unit. They were really very good sounding music speakers. I have modified the crossovers, damping material and enclosures and they now reveal much more about the source, which is great in the studio. I now need to replace the high frequency units as one has failed. Big & heavy - 40 inches high, and over 100 lbs each, and these were one of the smaller speakers in the Etude range! Once repaired, I plan to use them as mid to far-field monitors.
Etude MP3 Speakers
Sennheiser HD600 Headphones
Sony Pro Headphones
Good for hearing into the mix for any grungy bits that need cleaning up. Not good for general listening as you can hear all the grungy bits that need cleaning up!
Sonar X2 Producer by Cakewalk
Killer Recording and sequencing software. Rock solid, intuitive and flexible. I recently upgraded to X2 Producer which has a host of new features. However, the learning curve from my old version is steep, and I am still just coming to grips with some of the advanced features. Sonar also hosts various software based synthesizers and effects processors.
Dell XPS Computer
Nice and fast, and reliable, to date. 256GB solid-state main drive, 3TB data drive and 3TB backup drive give me plenty of disk space!